5 women's fashion necklaces tips you need to know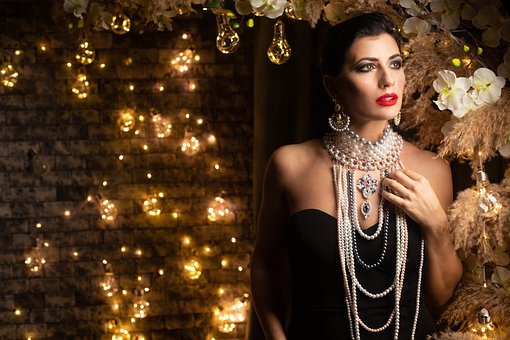 Necklaces are such a vital part of the ensemble. There are so many times that you want to jazz up the outfit with a pretty necklace, but you are unsure which type of necklace would suit the outfit. But does that mean you should give up on sporting fashion necklaces? Absolutely no.
You can sport the trendiest jewellery and still not come in the wrong list of the fashion police. All you need is a guide on 'how to wear fashion necklaces'. We are here to spill the beans on it. A necklace can't simply be worn with any outfit at any event just because the neckpiece looks attractive. There are various factors that need to be accounted for while making this decision.
The first thing you need to consider is your height and neck measurement because necklaces catch the attention of people you meet. Then comes your personality, yes, your personal style too impacts the decision. If you have a romantic persona, then you probably have more flowy silhouettes and floral patterned outfits. In this case, wearing a chunky bohemian necklace can put the whole look off the track. Similarly, if you are an athlete and prefer minimalised jewellery with dainty details, then sporting a romantic pearl necklace can make you look out of the place. Hence, it is important to choose a necklace that complements your personality as well.
Here are 5 tips that will help you to wear the fashion necklaces in the right manner.
Pay attention to your face shape – While choosing fashion necklaces pay minute attention to your face structure. The shape of your face impacts a lot on how a neckpiece looks on you. If you have striking cheekbones, then choose a long necklace, which is 10 to 16 inches in length. If you have a heart-shaped face, then you must go for short necklaces like a choker.
Mix sparkle with colour – Colours and sparkle go a long way. If you have a doubt, then try compiling a diamond-studded necklace with single-coloured earrings. However, stick to one colour because multiple tones can create chaos.
Choose other accessories smartly – When you wear multiple jewellery, you don't want just them to look good but also make you look good. Multiple jewellery can only enhance your appearance when they are in sync with each other. Strike a balance with the accessories you compile.
Pay attention to the colour of clothes – What sense does it make if your alluring fashion necklaces doesn't complement the dress you are wearing? When you choose the colour of metal and gemstones in the necklace, keep in mind the clothes you will wear it with and choose accordingly. In case you need help with balancing colour combinations, refer to the colour charts available online.
Choose according to the event – It is very important to consider the event for which you are planning to wear the necklace and determine its purpose. There can be one of the two purposes to wear fashion necklaces, one is to make a fashion statement with the neckpiece, and the other is to complement the outfit you are wearing.