HOW TO MAKE AN EMOJI PILLOW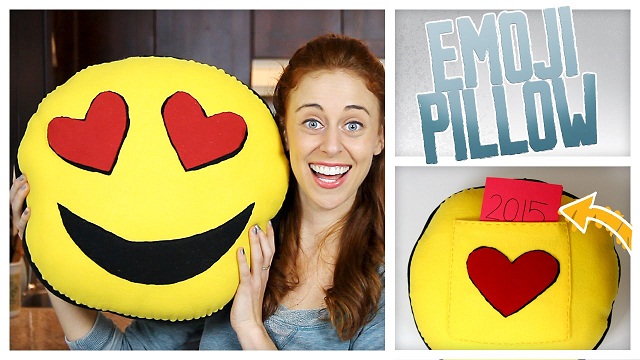 Do you love emoji pillows? The cost should not be a bother because you can buy online or make one yourself before you decide to buy one to decide if you like them or not.
If you want to just buy a pillow outright. Check out these Cool Emoji Face Pillows. There are quite a few different kinds of Emoji faxe pillows with sad to happy faces to match your mood!
This article has a reliable guide on how you can make an impressive emoji using the DIY method. The means applies the famous sew method but you can make one with the non-sew method. You will be filled to the brim with happiness as you enjoy unlimited comfort from a wonderful self-made emoji pillow. They are a piece of pie to swallow when it comes to their making. You should shop or design one and gift it to a close associate or a family member. It will give them a lifetime sleep experience. Please the listed materials and follow these steps as you artistically design your emoji pillow:
Required materials
These are the readily available materials in your locality. They include:
Yellow fleece or any other color of your preference
Steps to be followed
Your seat and bed pillows need not to be a hassle when it comes to owning one. Here are six simple steps that you should follow to make some and even sale others if you can produce a large number.
Fleece doubling
You should start your adventure by doubling up you yellow or any other chosen fleece. The wright sides should be folded facing inwards while the wrong sides should face outward. Pick any circular shape near you and trace it on your fabric using the black and red felt pen. A plate, bin bottom and a water jug are among the circular house objects you can use. Trace a half inch seam allowance using a ruler and use the scissors to cut it out.
Sewing
This is where the sew method is applied. You are advised to sew the two cut out circles together. This has to be done and leave an opening that will allow you to turn the sewed circle inside out. The non-sew method can also be applied by those who do not have a sewing machine. If you fall in this group then hand-stich you're the fabric circles, make use of a glue gun or use a quality glue gun. The end results are similar regardless of the method applied.
Rippling prevention
Rippling occurs along the seam line. This is prevented by cutting triangles along your seam allowance. This is followed by turning the circles carefully inside out.
Emoji sketching
Each and every one of you has an emoji face he or she loves most. Draw its details on a piece of clear paper. You then cut them out as you make paper templates which are placed on the fabric. Trace them out and cut out the tracings.
Piece arrangement
The fourth step will give you several pieces. They should be arranged on your pillow until you achieve the most appealing look. The look should be the one that best suits your emoji cravings. The best look is hot glued on the pillow.
Finalizing
The final touches will lead to a super emoji pillow. This is done by letting the glue settle then stuffing the pillow with bedding of your choice. A hot glue is used to seal up your pillow opening. It is this simple. Enjoy your creativity in fashion.